General Repair
Bumper to bumper; from engine, drivetrain, brakes, steering and to suspension. Our technicians are able to help.

Tires & Alignment
Fast and efficient installations on all wheel and tire services. A full alignment rack to make sure you get the most out of your purchase.

Fleet Services
We are experienced in maintaining some of Calgary's largest fleets. Let us help keep your assets in top shape.
Long-Term Business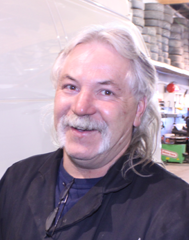 Although the team has a new name, Larry Cramer is not a new face in the automotive repair industry.
Larry has many years of experience running highly successful automotive shops. His team has always valued their successes in their customer's satisfaction. Cramer Automotive strives to exceed customer expectations in every aspect from initial contact to completion.
Technician Team
Our team of highly skilled technicians are the reason we succeed in customer satisfaction. They are able to get the job done on time, on budget and completed right the first time.

Our Hours:
Cramer Automotive Repair Ltd.
Monday: Closed
Tuesday - Friday: 8:00 am - 5:00 pm
Saturday: 8:00 am - 5:00 pm
Sunday: Closed
Night Drop Available